why did I become an interior designer?
It all started with a divorce.
Once upon a time I lived in a town home with my husband. As newlyweds we chose paint colors together, decorated our space, and made the most of a bunch of inherited furniture. Then, as happens, we separated. He moved out and (while I was very grateful to get to keep the house) I found myself literally waking up to my past. I'd walk through the living room, staring at all the things we'd chosen together, and it was like everything was shouting at me "you failed at marriage." It was depressing.
I decided I couldn't keep living like that, so one day I got some old paint out of the garage, and started putting it on the walls and ceilings. Now, as you'll see below, this wasn't a successful *design* choice – that faux paint treatment in Caribbean blue was awful, and that black ceiling… yah. But it was a GREAT LIFE DECISION. That coat of paint shifted the space away from being "our space" and started the process of making it "mine."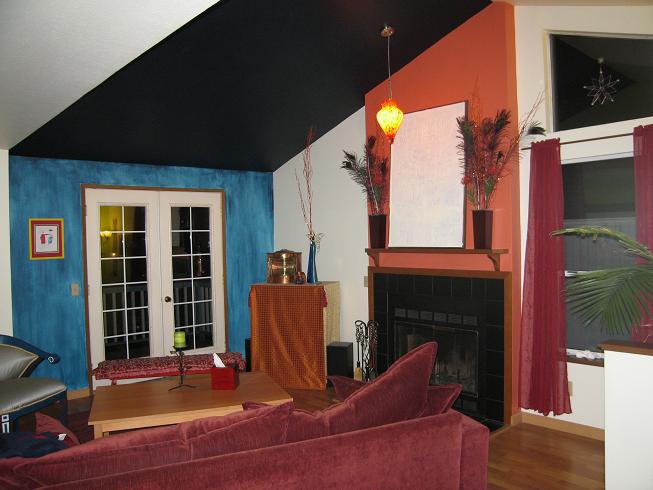 Once the room felt like it had been set free from that old chapter, then I felt like I had the freedom to make some intentional choices about the design of the space. Obviously the black ceiling and blue wall had to go. But what to put in it's place? I decided I needed it to feel light and feminine, a "no boys allowed" kind of space. So I painted the walls and ceilings a delicate light blue, and shopped Craigslist to myself a "new" turquoise velvet couch, pink velvet chair, and white fluffy rug. My mom and I painted the canvas over the fireplace after one of my favorite artists, and I made over the coffee table with turquoise metallic paint. I transformed the room into a sweet, girly space, and I felt like I was in *MY* HOME instead of 'OUR' HOME. I felt like I was waking up to my future.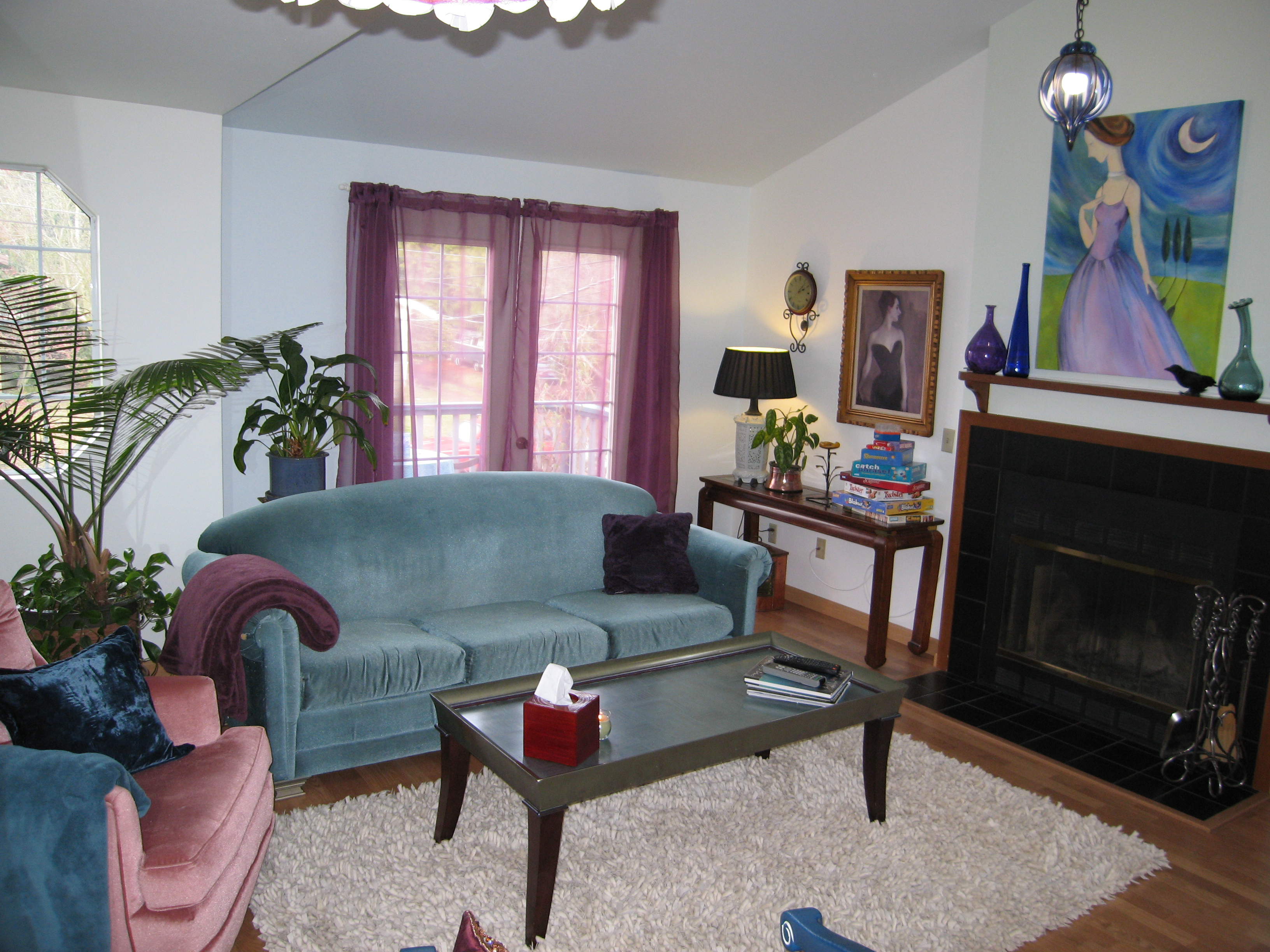 After a while I got over my no-boys-allowed phase and started dating again, and with that my little townhouse went through one more transition. While I kept my fabulous velvet turquoise sofa, I replaced all the pinks and purples with blues and greens, making it less girly and more date-ready. the room still felt like me, just a "me" who was ready for new adventures.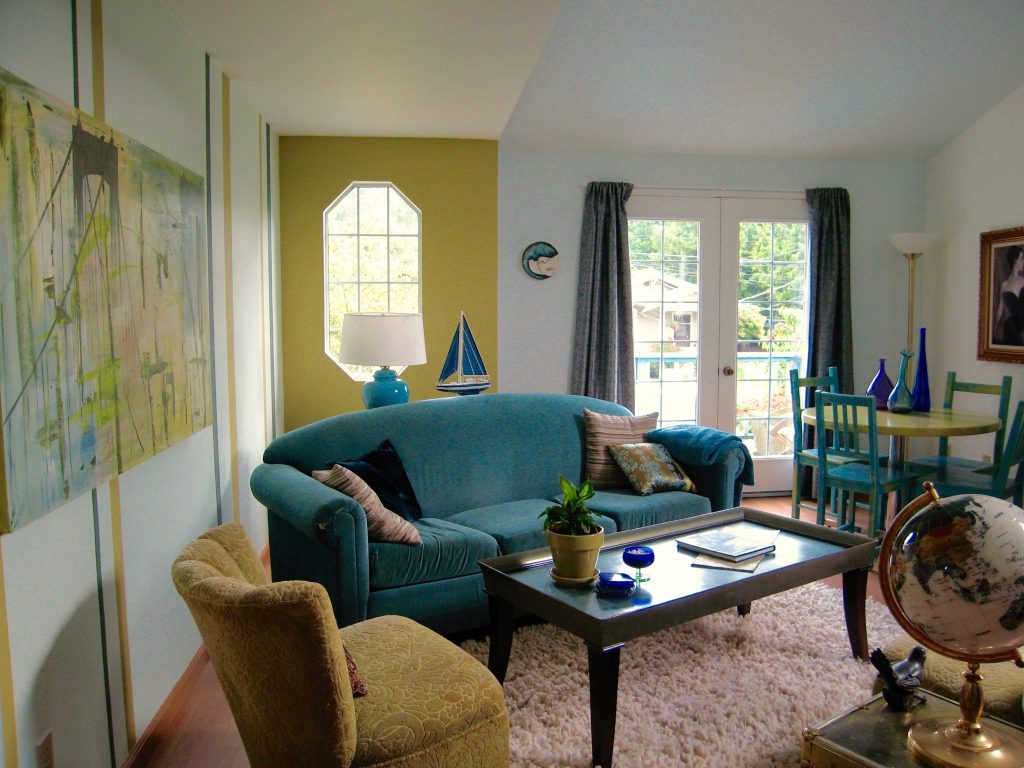 My space helped me walk through the craziness of divorce. While it started out reinforcing the sadness of having ended my marriage, it then gave me a place where I could safely hide and heal inside a feminine cocoon, and ultimately emerge and be courageous with love again.
And that's how an ex-Peace Corps volunteer with degrees in both Geological Sciences and Community & Environmental Planning ended up running an interior design firm. Changing my own space helped me understand how much our homes influence our happiness. I realized that my talents for color and design, which I'd always thought of as "fluffy," could actually help people. I saw how interior design could be so much more than the indulgent and expensive hobby of the wealthy. I just might able to change the world with throw pillows and paint. So I got online, got myself a business license, and I've been helping people create happier homes ever since.
Hope you liked this little glimpse into my world. I've since moved out of my sweet little townhouse. I'm remarried and share an amazing home with my hubby and out cat Murray, and I've had a ton of fun creating a home that is a reflection of us both. Life, and business, is a continuous adventure, and I wouldn't trade it for the world.
I hope your space supports you through all life's up and downs, and makes the hard days a little easier. If not, reach out, and let's see if I can help you create your happy place.
May your home always be happy.

SaveSave
SaveSave
SaveSave
SaveSave