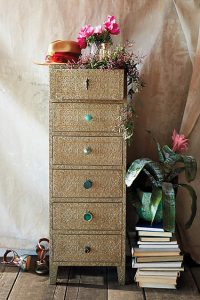 While there's nothing wrong with a basic cabinet handle, unique pulls can add a ton of personality to your furniture and make it feel more like art in your home!
Of course our go-to place for fabulous, fancy pulls is Anthropologie, and as you can see in this amazing lingerie chest (the Intaglio Dresser), having a set of unique pulls took what was already an artful piece and made it feel like jewelry for your home!
Few places compare with Anthropologie for that gorgeous jewelry look (though we've found some fun finds at World Market!) but we've also found some great options at Builder's Hardware and Supply in Ballard, as well as Pottery Barn, Restoration Hardware, and online at House of Antique Hardware. Keep an eye out, though. If you plan to redo your whole kitchen the cost can add up quickly – at even $10 a knob for 30 knobs you just spent $300! There are lots of ways to stretch your budget if you need to – try a quieter look on most of your cabinets and then splurge on the knobs for your glass-fronted cabinets, or just go fancy on your dining room buffet.
Swapping out your cabinet knobs can refresh your whole space, so go have some fun with your fabulous and fancy finds!
To your happy home!