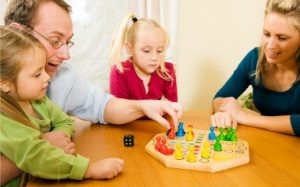 "Spend More Time With Friends and Family"
This one seems to top the list of many people's New Year's Resolution lists.  If this really is a priority for you, what's getting in the way?  If you, like many of my clients, feel embarrassed by your home, then naturally that is keeping you from inviting over your friends and family.  If the thought of a houseguest makes you anxious, something needs to change.
When I work with a client that shares this goal with me, we do three things to fix the situation.  I ask them to:
1. Imagine the life you WANT to live.  Close your eyes and describe for me what it means to spend time with friends and family.  Paint me a picture, in detail. Where are you?  How many people are there? Who are they?  What are you doing?  How long do people stay?  Who initiated it?
2. Send out invitations.  We all study harder right before a test.  Having a deadline helps motivate action, so I ask my clients to put a date on the calendar and invite the honored guests.  It might just be your spouse or your sister over for a glass of wine, or it might be a dinner party for twelve.  What matters is setting a date and letting people know – trust me, it will help you reach the goal!
3. Take action.  Now for the physical, task-oriented work.  Clear the clutter.  Arrange the furniture to suit how you want to use the room (family dinners?  movie night?  game night?  cuddled next to the fireplace?  everyone crafting in the same room?).  Sell or give away what you don't need, and bring in what you need to finish the space.  That doesn't have to cost a lot of money, but what ever you *do* spend, remember that this is an investment in the life you WANT to live.
You can do these things on your own but I highly recommend involving a friend or a professional who will help you keep your eye on the prize, help you keep objective perspective, and kick you in the butt if you need it.  It's too easy to let go and end up making the same resolution in 2013.
Don't waste this coming year.  If spending more time with friends and family is a priority for you, figure out what you need to do to make it happen, then do it!