What do you do when you have #kitchenissues but don't have the cash on hand to do a big ol' remodel?
It can be easy to get caught up in a big remodel anyway and blow your budget, but that isn't always the best choice, so today I want to share with you this sweet little update a colleague of mine did in her little rental kitchen. Did she really remodel her kitchen for $100? Of course not. But did she make some changes that made her happier in the space? You bet!
The problem? Well, on the face of it, there was no problem. Check out this just-so-adorable eating nook…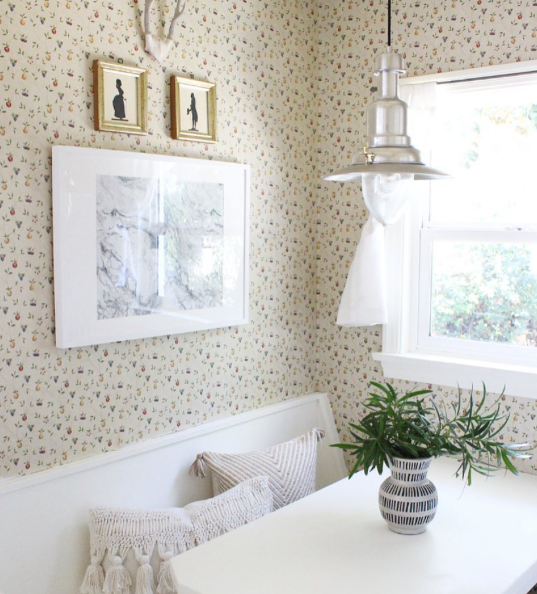 In reality, the space was driving her crazy. On her Instagram feed she wrote:
"Oh, our tiny rental kitchen…. The use of space is totally inefficient, and don't even get me started on the Willy Wonka wallpaper and old linoleum floor that NEVER looks clean!"
Because, in reality, that cute wall paper was past its due date: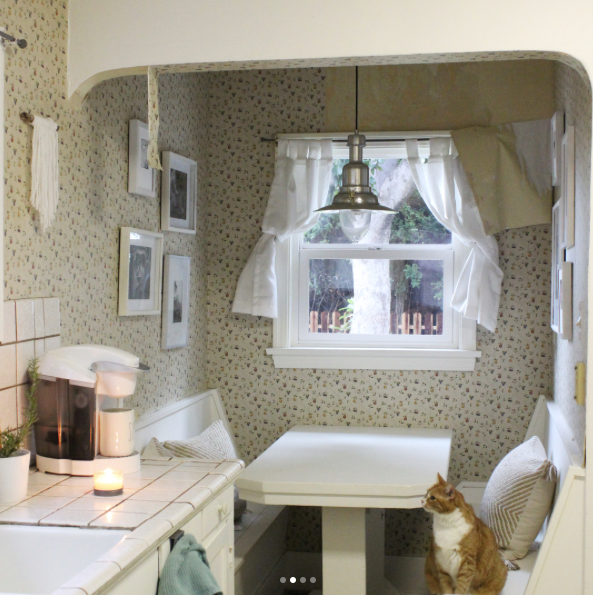 So, after stewing about it for a while, and getting inspired by another Instagramer's $300 kitchen makeover, she took matters into her own hands, writing:
"And I thought…. what if I set a $100 limit for this kitchen. What could I do? Right after I watched Kate's IG story, I ripped a huge chunk of wallpaper off the wall there was no going back. So, yesterday, after 12 hours of removing wallpaper, cleaning the walls, and painting… here's the progress!"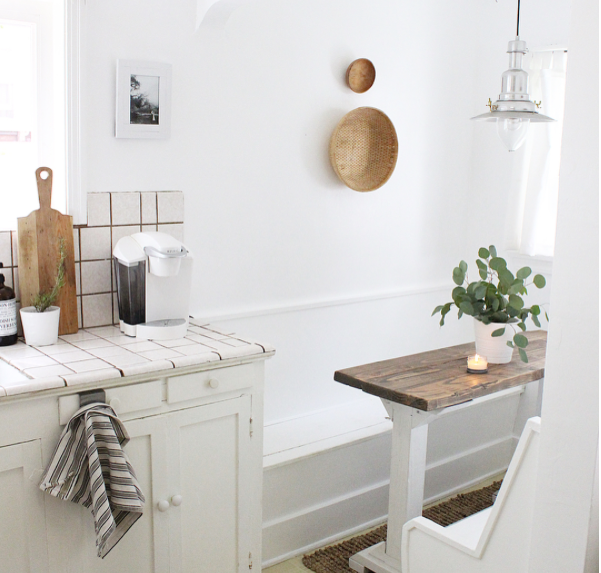 She decided to get happier in her space and took action. She brightened up her walls, and replaced the table with a small console table that made better use of the space and added warmth and charm.
But did you notice the part where she said "after 12 hours of removing wallpaper, cleaning the walls, and painting…"? That's the key, folks. If you want to save money, it's going to mean time. It's also (probably) going to mean some learning, and mistakes, and maybe a few do-overs. But that's okay, because the reward of DIY is much more than saving money. It's also the pleasure of knowing *you* did this, and you can take pride in that in a very different way from when you hire someone else to execute your vision.
Doing in yourself doesn't mean you have to do it alone. If you're ready to tackle a home project, check out the millions of videos on youtube for how to do things like remove wall paper, or cut in a straight paint line. Check out your local home improvement or tile stores for how-to classes, many of which are free!
And don't hesitate to call up your local tile guy and ask him if he'd be willing to spend a half-day with you getting your tile job started and showing you, hands on, how to work your tile saw and butter the back of a tile. Contractors are rarely asked to do consultation work, but you might be surprised at how many would be willing to get paid for a half-day's work and coach you on your project. Why not ask?
Don't let a limited budget keep you from getting happier at home. Even a tiny change can spruce up your place and brighten your mood – so whether that means breaking out a paint brush, retiling your backsplash, or just swapping out those burnt out light bulbs, take action. You can do it!
May your home always be happy!