The gift giving season can be tough. It can be hard to know what to get for the people we love. Either we don't know what they need, or they already have everything they want. So what do we do? If you're like many, you turn to a gift card, but it always feels flat, impersonal and, no matter how much you spend, lacking in value. What to do?
Why not rethink gift-giving this year? Why not give the people around you what we all need? Why not give the gift of Time? What could be more precious? But it's not just the gift that matters, it's also in how it's packaged. Half the time it's not that a gift certificate is unappreciated, but sticking a card in an envelope means that the joy of unwrapping a gift is missing. And that anticipation is half the fun!
So, here are ten awesome gift ideas that will not only make modern life easier, but will also be a joy to open! You could offer to do each of the following yourself for a nearly no-cost gift or, if budget allows, buy a professional gift certificate and tuck it in with the gift listed below: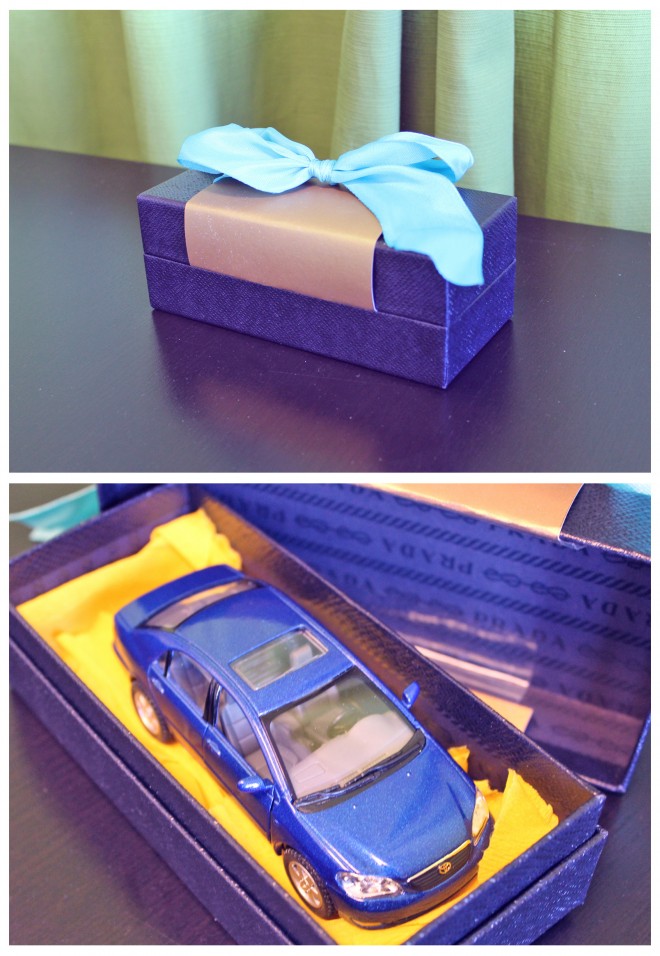 1: CAR DETAILING
Who wouldn't love to have someone thoroughly clean their car? Why not offer your services (or those of a pro like Mr. Detail or The Detailors) to detail their ride and make it sparkle? Another option would be a subscription to unlimited washes at a place like Brown Bear Car Wash. No matter how you plan to actually clean the car, make this gift fun to open by buying a toy car (any matchbox car will work, but we found the blue Camry above on Amazon) and tuck it in a box along with a gift certificate like the one below.


By packaging it as something to open you elevate a simple gift certificate into something fun and memorable for Christmas morning.
Here are nine other of my favorite ideas:
2: PERSONAL ASSISTANT – the gift of time
Wrap up an hourglass or a fun and sassy to do list along with a gift certificate to be someone's personal assistant for the day, or buy them a professional service like those offered by Sondra Firestein at Pursuit of Seattle. With a gift like this, you really are giving the gift of time!

3: BUBBLE BATHS
Many busy moms would kill for two hours of quiet alone time in a warm bathtub full of bubbles. This is an especially nice gift if the bathroom has been remodeled in the past few years but that pretty new tub hasn't seen its share of use! Tuck a cute rubber ducky into a box with the gift certificate below (and make sure you have some bubble bath on hand to deliver on your promise)!

4: MEAL PLANNING
For anyone who has everything except time, and who loves to cook but needs it to be fast and wants it to be flavorful, why not give the gift of weekly meal planning? Pack up a super cute new cooking utensil like this adorable spatula, and then either offer your services to prep and shop for four week's of meal planning, or give a subscription to a planning service like CookSmarts (I use this and have loved every meal we've made!) or a delivery service like Blue Apron or Hello Fresh.

5: CARPET CLEANING
This is one of those things that we always mean to get to, but somehow it keeps getting pushed to the back of the list. Help someone freshen up their home by either offering to rent a carpet cleaner and clean them yourself, or make the call to have it done by the pros at Alpine Cleaning. Make sure that you offer to move the furniture for the recipient too – you want this gift to be as hassle free and appreciated as possible!
To make this one fun to open on Christmas morning, we went online and found this adorable Persian rug mousepad. Tuck that in a box with the gift certificate underneath. At first they'll probably be confused as to why you gifted them a rug mousepad, but once they see the gift certificate they'll get a good giggle and have a great service to look forward to in January!

6: WINDOW CLEANING
This is one I've asked for (and gotten) in the past. Sparkling clean windows always feel like a luxury to me, but I'm rarely able to make the time to do it myself. Offer to  DIY or hire a pro like Paneless Window Cleaning (I love their name!) or Husser Window Cleaning. To make this one a fun gift you could either find an old window at a place like Ballard Reuse for an impressively large package under the tree, or find a mirror or picture frame with shutters that looks like a window. If it's a picture frame, you could put the gift certificate right inside the frame!

7: MOTHER'S HELPER FOR A DAY
My favorite way to package this one is to tuck a babysitting or Mother's helper gift certificate into a bodice-ripping romance novel with a note that this will give them something to do while someone else watches the kids. There are plenty of books to be found at your local goodwill if you don't want to pay full price, especially if the mom in your life is likely to do something else with her precious time off. This one is an easy one to DIY, or you can find help on a site like Care.com.

8: honey do
If your loved one has a list of things around that house that need to get done, why not offer up your own handy hands, or buy them some time with Kelley at She Fixed It, or the folks at We Honey Do or Housecalls Handyman? Make this one extra fun by tucking the gift certificate inside this fantastic book: Porn for Women (don't worry, yes! it's safe and family friendly to click through on that link).  Good for a giggle and your friend can finally get things done!

9: pick a color
Know someone with a mosaic of color swatches on their walls? If they are facing a color crisis, save them from that stress and worry with a professional color consultation. You could buy a gift certificate for a Quick Action Session with me or a consultation with someone like my colleague Nancy Hellstrom at Interior Shift. If they have a passion for design and wish to do it better, why not tuck that gift certificate inside a book that will help them design with more confidence, like my own Happy Starts At Home or Ellen DeGeneres' fab book Home.

10: House keeping
Last but not least, let's not forget that nearly everyone would love the luxury of having someone else scrub the toilets! If you feel ready to offer up your own elbow grease, why not tuck a spray can of Pledge into a wine bottle bag? They'll be confused and surprised when they pull out a cleaning product instead of a bottle of wine, and then delighted when they realize it's not for them to use! Don't want to DIY and ready to spend a little more? Offer a few months with a service like Molly Maids or a local company like the The Cleaning Valkyries.
Nearly every one of these gifts could cost you next to nothing if you offer to do it yourself, or could make a professional gift certificate feel like a fun and personal gift. Either way, you avoid cluttering up the houses of your loved ones with stuff they really didn't need, doing both the friendship, and the planet, a world of good.
May your holidays be happy!
Rebecca