A gallery wall can be the perfect finishing touch. It's a great way to fill a giant blank wall space in a hall or over a sofa, or to balance a large piece of art on the opposite wall. But how do you create a successful gallery?
Having recently created a gallery wall in my new office, I've gathered up my favorite takeaways. Use these guidelines, but don't be afraid to experiment. There are key ingredients that go into any great collection, but in the end it's an art as much of a science. And if you get stuck, remember that you can always hire someone to help!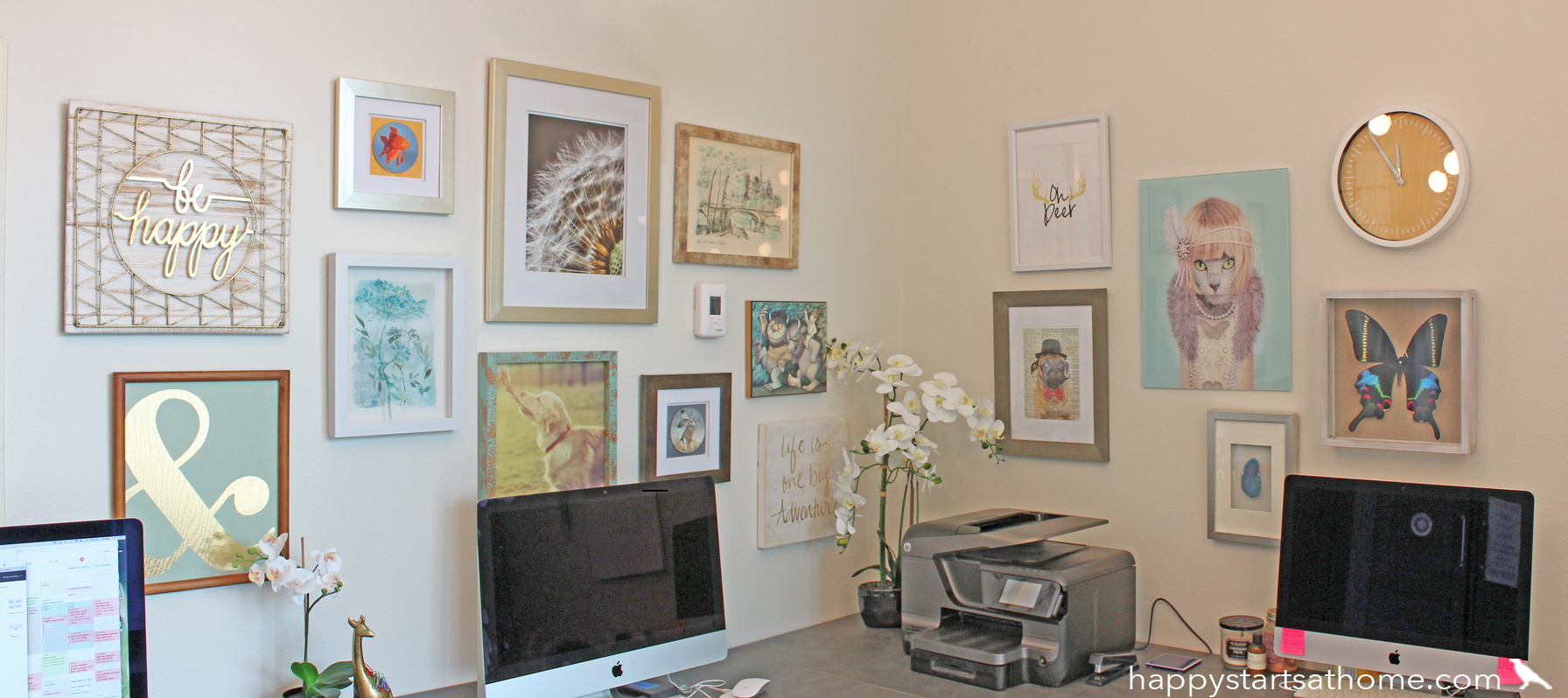 My gallery wall guidelines:
1) Treat the whole collection as one piece of art, and hang the grouping so that the center is at about 60″ from the floor, just like you would with one large piece of art. Generally you want to be able to look into the center of your art while standing. This is true whether it's a small collection, or one that goes nearly floor to ceiling.
2) Avoid the urge to hang the biggest piece in the center, and instead hang it a little off center. This will help you create a more interesting layout. In this gallery (below) by Slater Interiors, the designer created a much more interesting collection by offsetting the largest pieces, and balanced them with smaller pieces that have more ornate frames. Note that this isn't a hard and fast rule, and many wonderful gallery walls have a central large piece, but it often ends up feeling a little bland.
3) Keep the spacing relatively consistent between pieces. I usually have 3-5″ of space between pieces of art. This ensures that you don't end up with any lonely pieces floating out on their own, or any pieces that are too crowded into the space. This is more important than making sure the top or bottom lines are straight, because that spacing is how you make it feel like one cozy family of images. See how consistent the spacing is in the gallery below, and how the installer created a straight bottom line, but left the top line organic? Lovely!
4) An easy way to make a gallery wall feel cohesive is to restrain the color palette, or use all matching frames, or make the subjects all of similar size. In the gallery below they use all white, skinny frames, beautifully tying all the elements together. In addition, the colors in the art are all bright and clear with a lot of white space, so they feel like cousins from the same family.
5) Don't be afraid to mix up the subjects and textures. Here the quotes and text break up the portraits and paintings to help keep it interesting and add a bit of playful sass.
6) Consider painting a deep wall color behind your gallery. This is especially helpful if you have a really varied collection with lots of different sizes, shapes, textures, and frames, and you want to tie it all together. Of course it also adds quite a lot of personality to a room, like the plum color in this room captured by Rikki Snyder.
Like I said earlier, these are guidelines, so take some time to lay out the collection on the floor before you hang it on the wall. If you need some extra pieces (or if you are starting from scratch) hit the bargain stores like Home Goods, Marshalls, Tuesday Morning, etc. Pier 1 and World Market have some great pieces too! Buy three times as many items as you need, and only buy things that make you smile. Be *super* careful and hold on to all those receipts, because you'll be returning about two thirds of what you buy, and returning what you don't keep is an important part of sticking to a budget!
Want to come check out our gallery wall and get a #selfie with our life-size Tardis? Drop by anytime Tuesday to Saturday from 9ish to 1ish and Leah will greet you with a smile! 1240 N Midvale Pl, Suite 100, Seattle WA!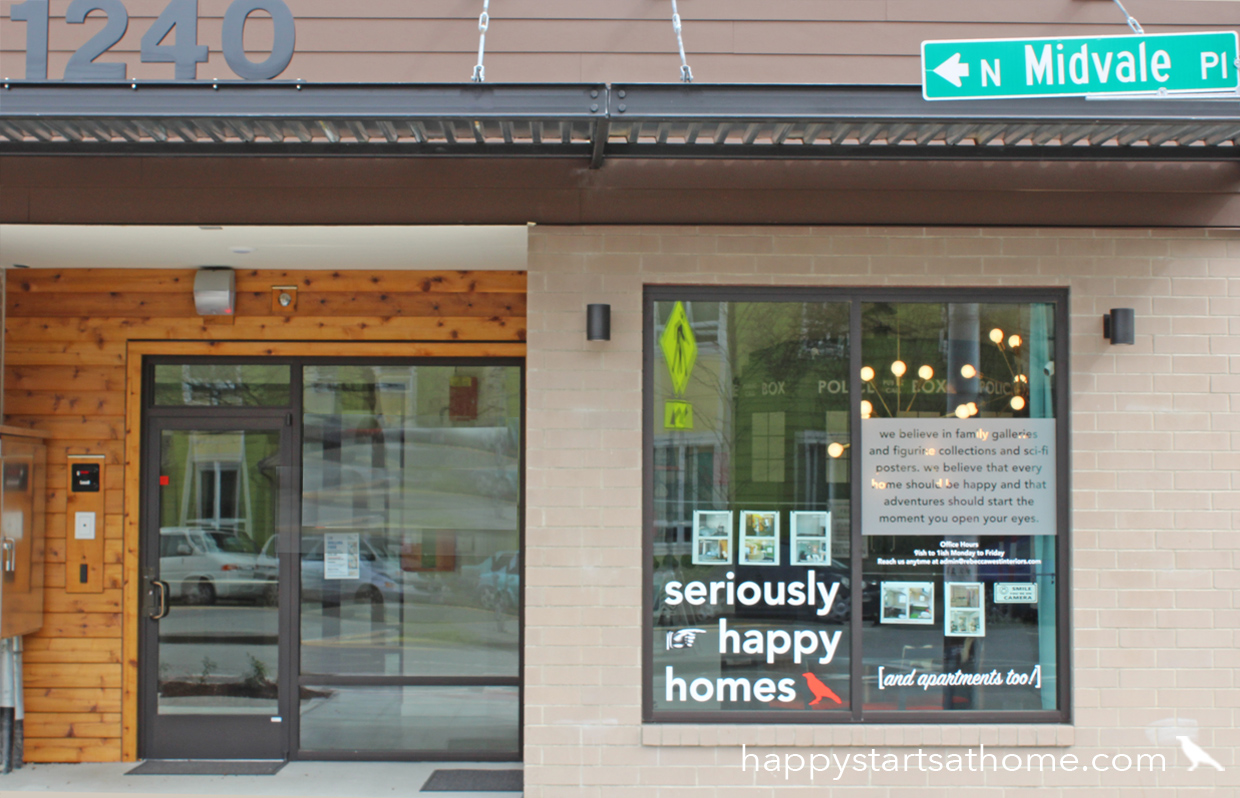 Need a  hand with your own gallery wall? Don't hesitate to give us a holler! Have a a bunch of things on hand that you love and we can spend a QA session laying it out on the floor together and we can guide you on layout, spacing, and hanging heights. I want you to love your collection as much as we love ours!
May your home (and workspace) always be happy!