Time for a little #designhonesty. Not all of my early design ideas were successful.
Waaay back before I started my design company my friends used to tease me for how often I re-Decorated my home. From one visit to another they never knew what color the walls might be, how the furniture might be arranged, or what sofa I might have just purchased on Craigslist.
I did it because it was fun, but also because I was still figuring out who I was, and what I needed from my space.
But when you try out new ideas sometimes you seriously miss the mark, and I had my share of failed experiments. An example? Check out this "bohemian" wall treatment I did using bunches of feathers. I sent this shot to my mom and she told me it looked like giant spiders were crawling up my wall.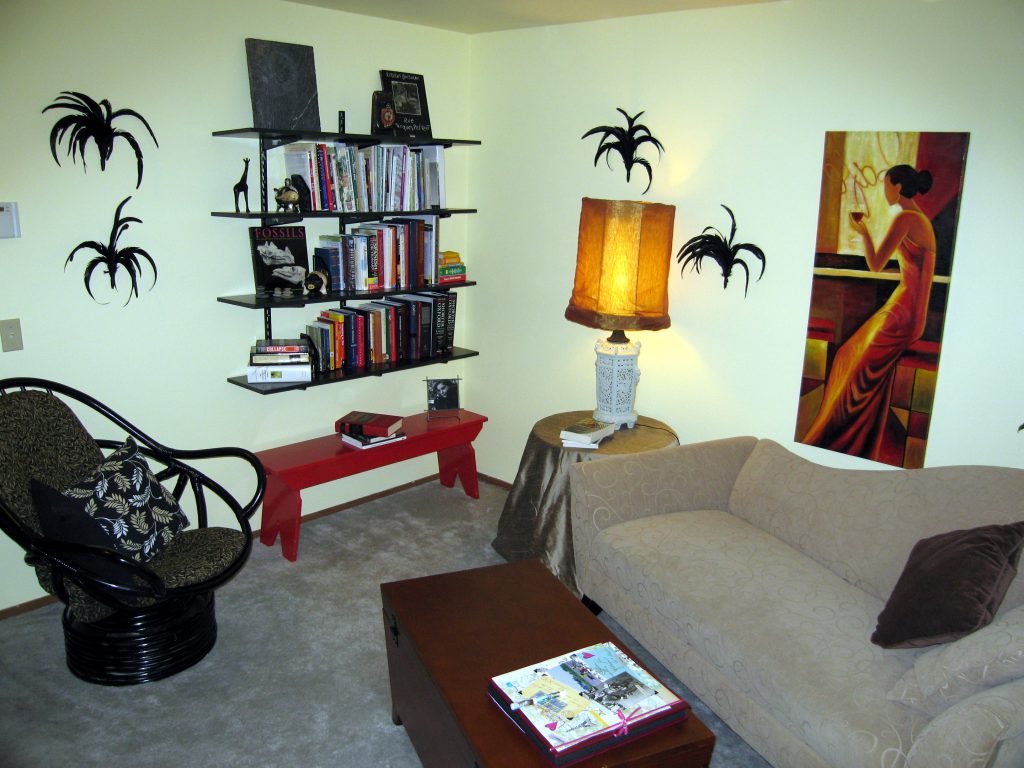 OMG. It totally does. #designfail It wasn't my first failed experiment, and it wasn't my last.
Now, before I show you this next image, remember that when we're younger we tend to be drawn to bold, intense colors. If a kid tells you he wants a "blue" room, don't even bother trying to show him "robin's egg" or "morning sky." Nope, he wants blue. Seattle Seahawks blue. Captain America blue. Lotus Evora 400 blue.
As we grow up, our tastes tend to mature, not just because we understand subtlety, but also because as our lives become more chaotic, we literally need our spaces to become a refuge of calm in a crazy world.
Of course that doesn't mean we are able to choose a more subtle color from a paint chip. Often we pick a color hoping for "butter yellow" and we end up with "caution tape yellow."
And that's what happened when I decided it would be cool to have a bold, unique hallway. Something dynamic, with a curve to break up my long, skinny, boring space. Sadly, it did *not* end up looking like it did in my head – I wasn't actually aiming for McDonalds cafeteria when I tried out this design. 😂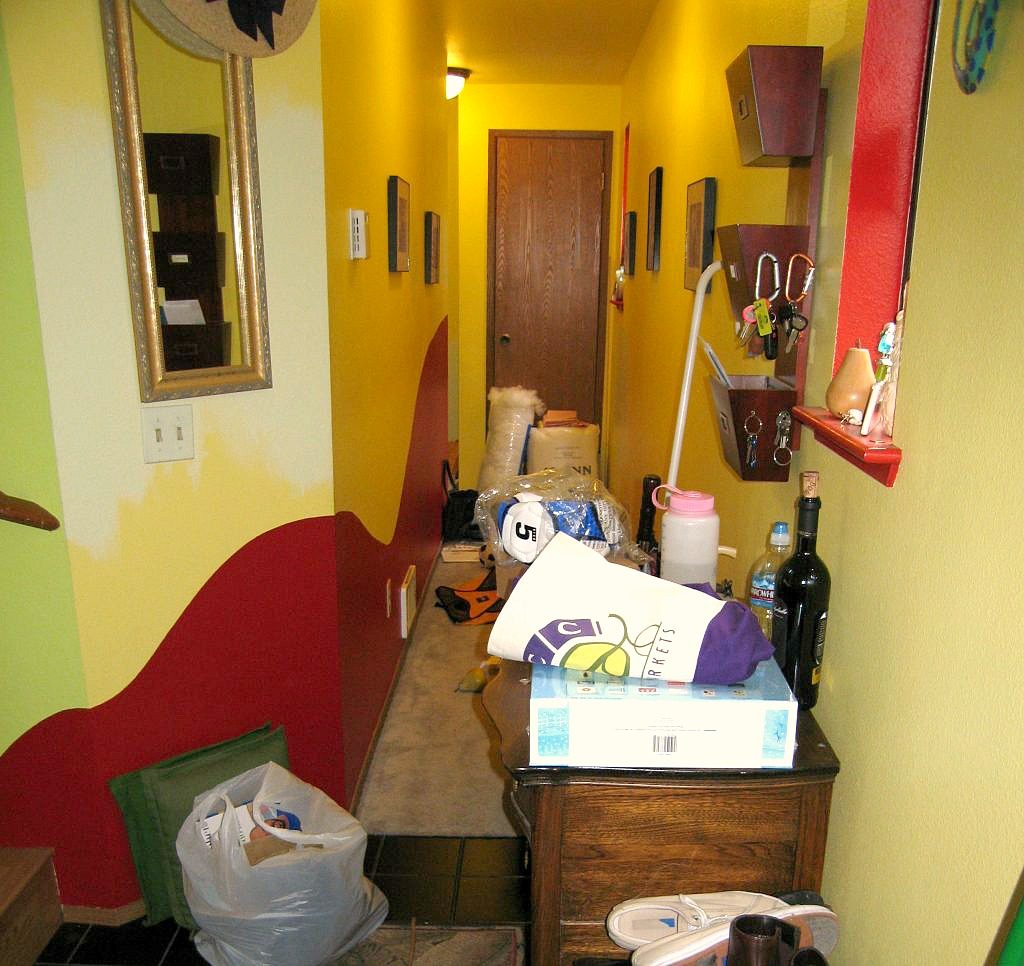 #Fail.
I only have this messy shot of that hallway because I realize pretty quickly I couldn't live in a fast food restaurant. My next attempt at fixing my long skinny hallway was much more successful. I added the curve of an oval mirror to offset the long rectangle of the hall. I installed three new windows to bring more light, and I added curtains to the windows to soften all those hard edges. Oh yah, and I cleaned it up lol. 😉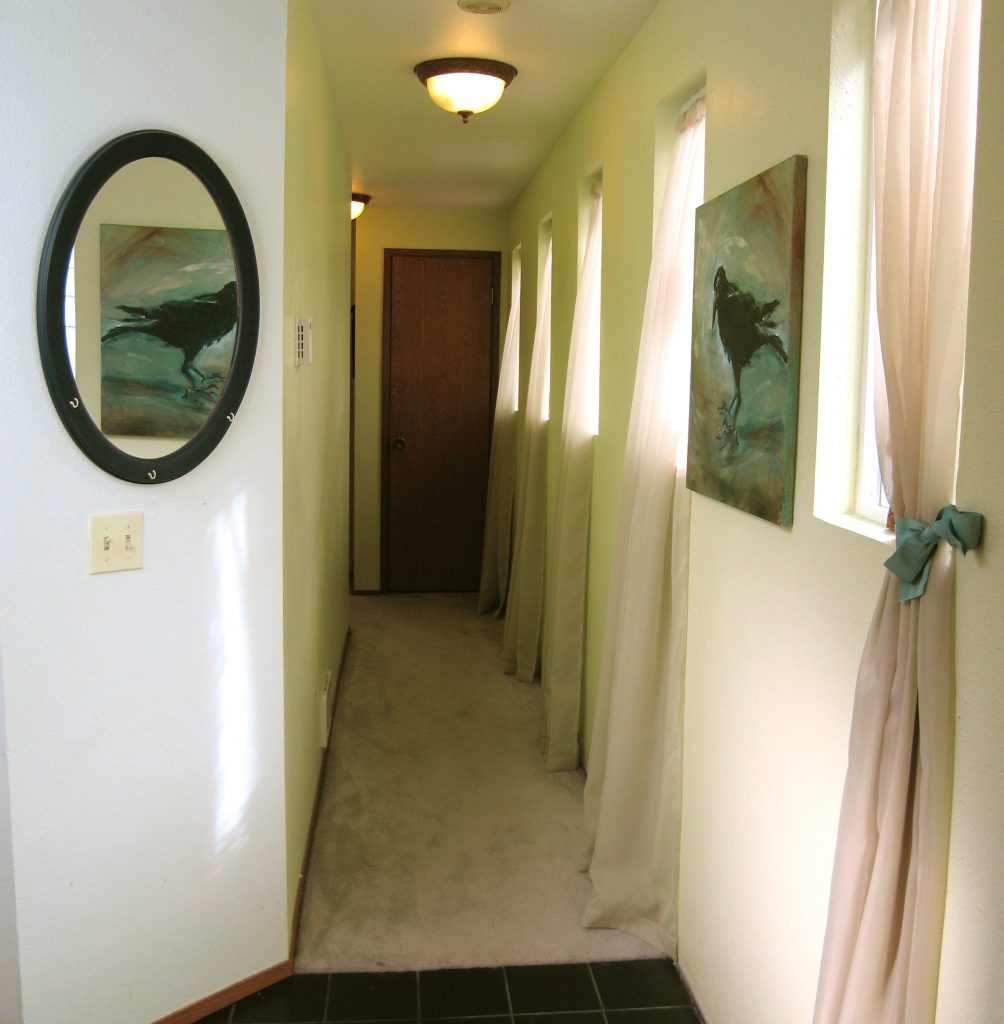 So first, off #yourewelcome. Because I experimented on my place I don't have to experiment on yours. 😂
But more importantly, I hope that sharing some of my failed experiments takes away some of the mystique behind design and encourages you to experiment on your own home and work to make it a space you love. Because even on my just-out-of-college entry-level-job salary I was able to buy paint and transform my space, and ultimately create a house that not only felt like home, but that reflected me and my journey towards adulthood.
It's just paint, I promise.
May your home always be happy!

SaveSave
SaveSave
SaveSave
SaveSave