When your space feels good, your life feels good.
If that is true, then making it feel good is crazy-important.
The great thing is that while so many things in life are not within our control, our space IS. It's the ONE area of life where we have complete influence. Shouldn't we wake up to bliss and calm every morning? The answer: hell yes.
Maybe you've tried to make your space Pinterest-worthy, but instead, it's come out unfinished, uninviting, and uninspired, with a splash of mismatched and messy.
Even if you've hired a designer in the past,
it's quite possible that they did it wrong, too.
Too many designers focus on the color of the year and the latest trends in kitchen sinks. They tell you to get rid of all the stuff you already own so they can be free to create an artistic vision fit for the cover of Architectural Digest.

we start by identifying the purpose of the project.

Why are you thinking of investing your time, energy, and money into a remodel?
Why do you feel unhappy with your space?
Why is it time now to make this change?
Then, we identify the target and craft a precise, accurate strategy to accomplish your goal. We create a strategy so you can make clear decisions.
Maybe you love a lamp you see at your local furniture store, but does it work with your goals? No? Great – it's out. All the overwhelm you feel when you walk into a lamp store, or tile store, or paint store – solved.
What we don't do is start designing to make someone else (like your mother-in-law) happy. And we don't design your home to impress others. Wedo it to make YOU (and your partner) smile.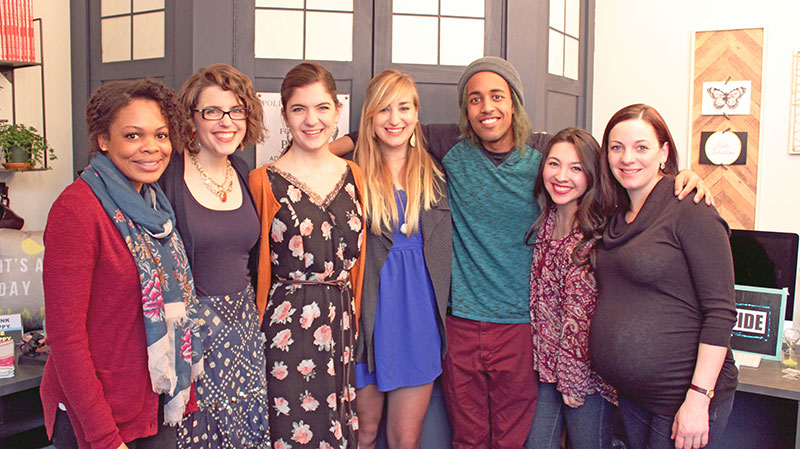 We believe in DIY.
We believe in family photo galleries and shelves
full of 1/144 grade Monty Python figurines.
We believe in pet-friendly, replaceable area rugs.
Let's work together and create a manageable, practical, executable plan to bring your space up to date. Let's tap into what you want in your life, need from your house and get to the root of how you truly want to feel when you come home.

When we work with our couples we expect you *both* to be involved and have a vote in the final look, feel, and function of your space. (When we're done designing your space, you and your partner will feel like you're sharing the same design mind! Like the Borg. But for design. And not creepy.)
Our background in teaching couples to move together on the dance floor makes us especially equipped to get the two of you on the same page when it comes to design, don't worry!
We're Rebecca West Interiors, and we're devoted to creating
Seriously. Happy. Homes.
We're making life better, one room at a time.
---

Home means the world to us, but we know not everyone is lucky enough to have a safe and secure place to live.
A portion of our profits supports Rebuilding Together Seattle, a wonderful local organization with national roots that provides free home repairs for low-income homeowners who are elderly, disabled, families with children, or veterans in need.
We want everyone to have a happy home.