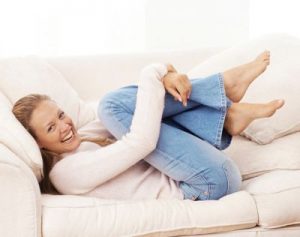 So you are divorced, and you are sitting in the living room looking around at the house you once shared with your ex. All the memories of your past are staring you in the face. Everything in that room echoes with memories.
Being surrounded by your past is not a good way to move forward, but you're not in a position to move. What can you do?
When that happened to me I got out the paint. I painted every surface a new color, and moved the furniture around so that I literally had a new perspective – on the room and on life. By making these simple changes inside my home it made me feel like a fresh start was possible, and gave me the courage to make bigger changes (like starting Rebecca West Interiors).
In the last eight years I've helped my clients do the same thing. One lovely lady had spent four years staring the stuff her ex left behind, until she hired me to come and help clear out the baggage.  With every box that went to goodwill I watched her physically lighten, and she began to smile more easily.  Another energetic gal had moved into a new condo of her own after divorce, but was feeling sad and blue because the space felt so impersonal and beige. We brightened her space with pumpkin colored paint and a zebra rug, and helped her create a space that felt just like the new 'her.'
Making over a room make not feel like the obvious answer to how to move on from your divorce, but it's a small, safe way to create change in a life that needs some new answers, and give you the courage to move forward in bigger ways, too.