Want a paint color that is timeless, promotes health, vitality, and wealth, and can brighten up a dark basement room? Aim for green! Want a paint that will let you breath easy? Aim for low VOC!
Here I'll share three of my favorite Benjamin Moore greens, and let you know what I think of their low and no-VOC paints.

Three of my go-to greens, great for resale when you are trying to show off a kitchen or master bedroom, and lovely for warming up a big but dark basement room, are Gulidford Green, Van Alen Green, and Mellowed Ivory. Why do I love these three colors? They are gentle and well-behaved colors (not likely to "scream green" at you when you walk in the room) with enough color to really show off white doors, trim, and base molding. Mellowed Ivory has a touch of yellow to it making it soft and warm without going yellow. Van Alen Green has a touch of blue to it making it fresh, even a little minty, without going blue. And Guilford is like a perfect dried herb, wonderfully neutral without having to resort to a taupe or tan. Love them!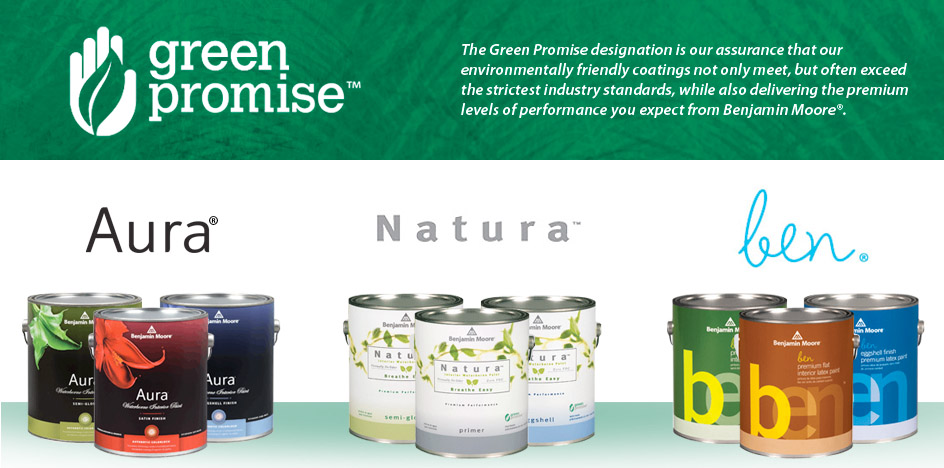 What about low-VOC paints? I am most familiar with Benjamin Moore paint: Regal, Ben, Natura, and Aura, so I'll just speak to those. First off, I am told that all four of these paint lines are considered low-VOC, but they only promote Ben, Natura, and Aura that way, so let's assume Regal is not low VOC. (It covers nicely, and is a moderate price point, though pricier than the Behr Premium Plus at Home Depot, which I like just as well).
How about their zero-VOC line, Natura? Well, I really don't like it at all. I found that even after three coats it still didn't cover the old paint very well. I don't use it.
Ben is priced nicely but didn't cover as well as Regal or Aura, so I tend to use that in a flat finish for my ceilings. It's a nice way to spend a little less but get a better indoor air quality, especially if you are living where you are painting.
Aura is my favorite. It covers exceptionally well and dries in an hour. If time is of the essence you really can paint a room in an afternoon with this stuff. The matte finish is great for dark colors, leaving a nice velvety looking finish. There is also an Aura Bath and Spa matte option, great for painting a darker color in a bathroom – dark colors in a satin finish can look plasticky. Aura paint is super thick and because it dries so fast it takes a bit of learning to get used to it, but I love it. That said, you pay for it, at not quite twice the cost of Regal when I last checked.
That's my experience with BM paints in a nutshell, and three of my favorite green colors.
Here's to your healthy and happy home – have fun painting!