I usually share transformations we've designed for our clients, but this time I get to share our very own office update!
This winter I realized that the RWI team had outgrown its home in our Fremont location and decided it was time to move. I found a sweet little spot in Wallingford (I knew it was meant to be when I realized that we'd be across the street from *both* Archie McPhee AND the Meowtropolitan Cat Cafe!) and sat down to design our new space.
The future RWI headquarters was a completely blank slate. Just a single large room, with a private bath and separate storage area down the hall. I knew it would need to look cute (hey, we are a design company after all), serve my team well, and also give me a private space where I could work and do coaching via Skype.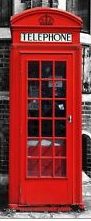 What I needed was a private little phone booth. I thought about creating a red phone booth like you'd see on the streets of London (would have been cute!), but then I had a better idea! Why not build myself a TARDIS?! (For all of you not in-the-know, a TARDIS is a phone callbox that travels through time and space like this!) Why a TARDIS? because: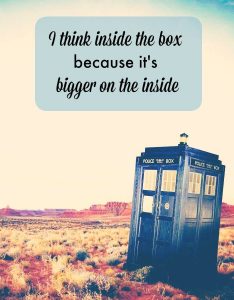 #1 I think that people should surround themselves with silly things that make them smile. I knew the TARDIS would make me smile!
#2 because the whole point of the TARDIS is that it is "bigger on the inside" and that is *exactly* what we do – we make small spaces feel bigger on the inside. It was the PERFECT idea!
So I did a bunch of research on proper TARDIS specs, drew out what I wanted, and Read More…