In a world where we spend more and more time on our phones and less time face to face it's important to create time to be together in real life. Unfortunately, if you live in a place like Seattle it can be hard to go out – not only is it expensive, it can take 45 minutes just to drive 5 miles. Why not bring the party home?
When my hubby and I remodeled our home we wanted to create a space where it would be easy to host our friends. We host three annual parties, and many more impromptu parties, for groups of 12 to 20. There's the Friends-Giving Potluck one week before Thanksgiving, the White Elephant Birthday Party for my hubby every August, and the New Years' PJ Party.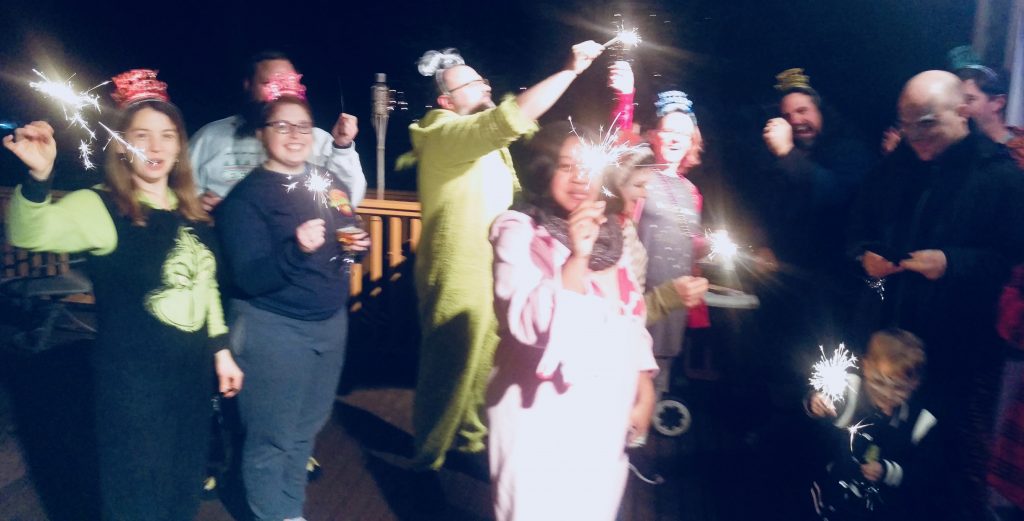 We always have a blast hosting the party, and just as much, we love that by an hour after our guests have left, you wouldn't know we'd thrown a party.
Would you like to amp up your social life with a home that is party-friendly? Here is what we've learned:
1) Furnish your space with comfortable, non-precious furniture.
It's key that you aren't worried about your space when your tipsy friend is carrying a plate of barbecue across the carpet. We've made sure that our carpet is patterned so if there are spills it won't be so obvious, and that it's inexpensive so if the worst happens, it's not the end of the world. Right before the party we make sure to put away the few things we don't want to get broken, like the blown glass octopus that lives on our coffee table.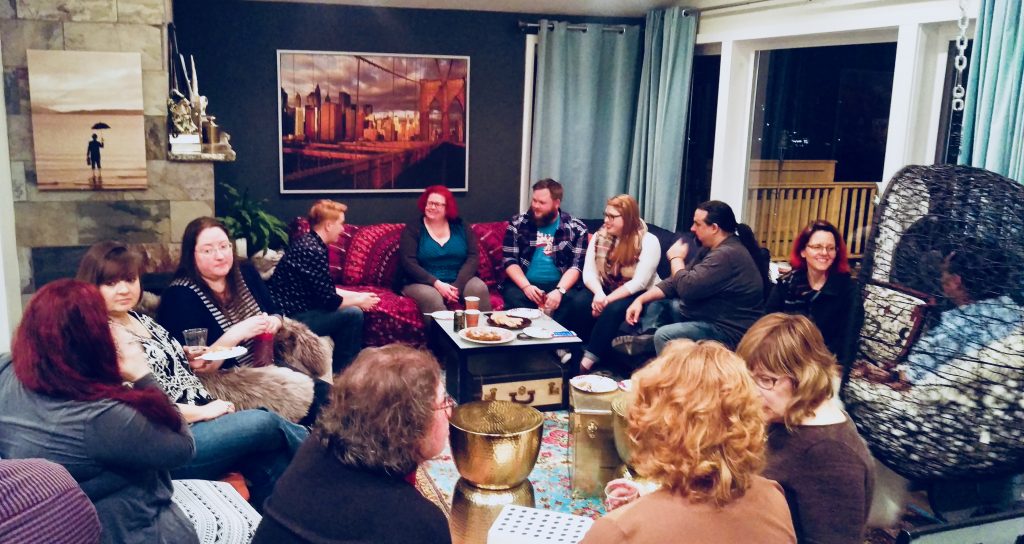 2) Furnish your space with conversation in mind
If you want your space to be about board games and chit chat, then make sure its everyday layout supports that use. If you have to completely rethink the layout of your space just to have a party then it's just going to be too much work every time you have to host. While pulling a few extra chairs in from the dining room is no big deal, you don't want to be scrambling for enough seating in the first place.
When 20 people gather in our living room it's cozy, but we made sure to chose a large sectional couch when it was time to go sofa-shopping, and when it's party time the ottoman from my hubby's chair, along with all the dining chairs, my office chair, and a few extra stools come into the room. But the basic set-up doesn't have to change just to have a party.
2) If you're remodeling, open up the space.
We don't have a huge home (it's 1960 sf) but when we remodeled we opened up the tiny kitchen, dining space, and living room so that when people are in the different spaces they still feel like part of the party. People often think they need *more* space in order to have the lifestyle they crave, but really it's just a matter of using space well. Everyone's going to crowd into your kitchen regardless, so better to make those smaller spaces live large.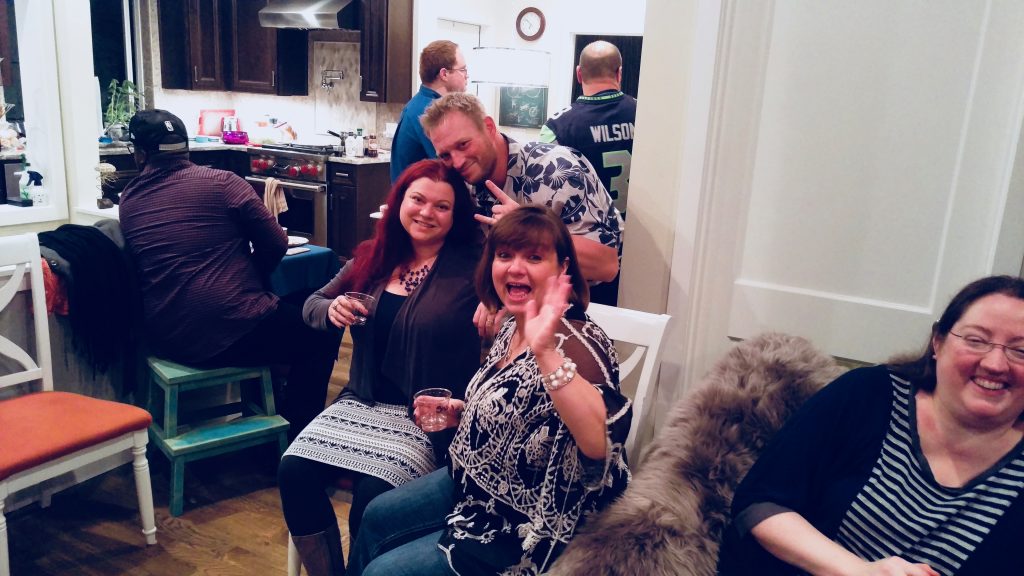 3) Have easy to clean surfaces and very little clutter 
Part of why we don't mind hosting a party is that our house cleans up quickly afterwards. We have hardwood floors that sweep up easily, and granite counters with an undermount sink that makes it a breeze to wipe all the crumbs into the sink. But most of all, we've done the hard work of decluttering. That means everything has a home, and when don't have to shove piles of stuff into closets and spare rooms just to have a party.
4) Let go of perfection
If you're going to wait until your home is perfect, then you are never going to host a party. There is no such thing as perfection, and your friends aren't going to care. (Trust me, there were plenty of things that were not done by the time we held our wedding *at our house* but we weren't going to let that stop us!) Clear the clutter as much as you can, and tidy up as much as possible, but set the date and just do it. Dim the lights if you must, but don't wait. Life is too short to miss out on time with those you love just because your sofa has been destroyed by your cats, or your new side table is backordered.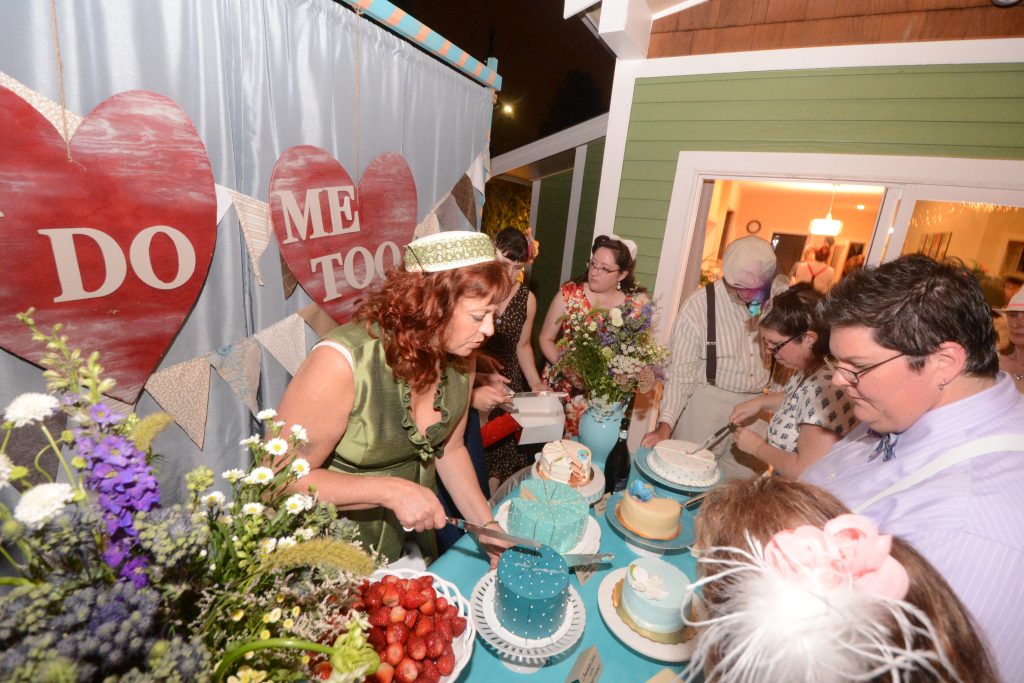 5) Bonus tip – host potlucks!
This isn't so much about how to prepare your home, but how to make it easier on yourself to host in the first place. Part of why we find it so easy to host parties is that we involve our guests. We ask our guests to bring a dish, and at the end of the evening we never turn down help to put the chairs back in their original rooms. This not only reduces prep and clean up time for us (and party costs), but also lets our guest feel involved. This means giving up control and knowing that you might end up with four versions of mashed potatoes at Thanksgiving and no cranberries, but the reduction in stress is so worth the reduction in "perfection."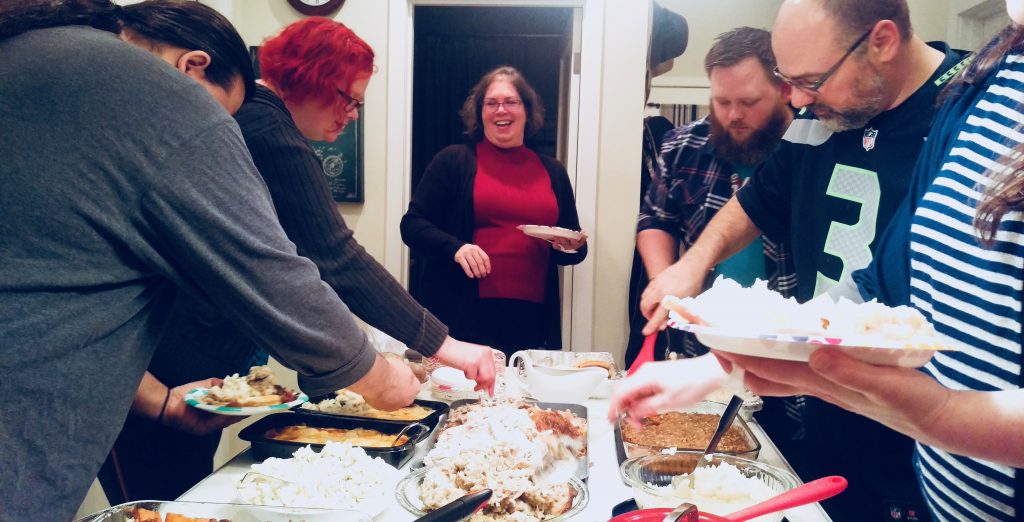 Of course, that is the key to the whole thing – letting go of some idea of Martha Stewart party perfection and knowing that it's really all about getting together and putting the phones down.
If you're new to hosting, start small. Just have a couple friends over and play a game of Scrabble. Just don't let the traffic and cost of going out keep you from having face time with your friends.
May your home (& life) always be happy!

SaveSave
SaveSaveSaveSave
SaveSave
SaveSave