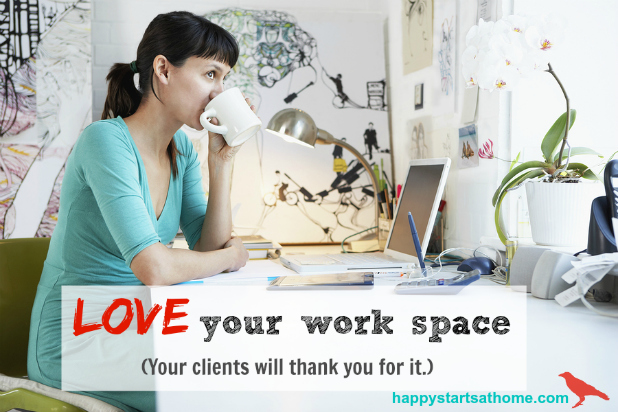 So you've decided to work for yourself. Congratulations! Where are you working? At your dining room table with piles of junk mail and kid's homework pushed to the side? On your living room couch in front of the tv? In a disorganized office with shabby walls and a calendar from 2009? If you are not working in a space that makes you feel and behave like a professional, you may be sabotaging your own success.
Every time you walk into a professional space — from a restaurant, to a hair salon, to your CPA's office, you make judgements about the quality of the work based on what you see. Delicious colors and intimate eating nooks elevate the food. Creative colors and eclectic design suggest the ability to create personal and distinctive hairstyles. Tidy piles and a clean space suggest an organized CPA in full control of her client's accounts. Just as we evaluate other professional spaces, our own environments speak to and about us and affect the output of our work.
When you're starting out it's perfectly reasonable to carve out whatever space and time you can. Just getting a single client is cause for celebration, and no one ever needs to know that you did it while feeding the baby, running the dishwasher, and wearing your pjs. But as you grow as a professional your output will grow and mature too, and may deserve a bit more focus than a stolen five minutes perched at the breakfast bar can give you.
My first home office was a tiny two foot wide desk I built into a nook in my bedroom. It worked great for a couple years, but as my company took off I spent more and more time at that little desk and having that space in my bedroom meant that I was kind of taking work to bed with me. Not great for my sleep quality or my work-life balance.
I moved my office into the guest room and it worked amazingly well for me for another few years. It looked and felt like a "grown up" space and helped me advance in my career. I had a wonderful view of my garden, and a door I could close when my workday ended.
A few years later I outgrew that space too, needing a place where I could have a few employees and where it wouldn't be quite so easy to "just do a load of laundry." My work needed more of my dedicated attention. I was actually pretty astonished at the efficiency I gained by moving out of the house.
A client of mine found the same thing to be true. As a work-from-home mom with a growing business she realized that by keeping her office at home she was giving half-attention to both her kids and to her work. Even though she wouldn't be at an away-from-home office more than about 10 hours a week, by creating a dedicated work space in an office building a few miles from the house, she discovered that she could do more in less time. In that space she could really focus and do her best work, and then when she came home she could give devoted and loving attention to her kids. No more having the stress of trying to be all things at all times.
Now, if you're juggling kids and work and just doing your darnedest to get in the time, I know you're doing your best — celebrate that! But at the same time, you have set yourself some professional goals, and to succeed you have to honor the goals and yourself enough to create both time and space for it. Take a moment to evaluate if the sacrifices you are making in your space, by "borrowing" a corner of the dining table, is actually getting in the way of reaching your true potential. You are a professional, maybe it's time to create a room of your own. And besides, wouldn't it better to be away from your kids for a few hours and then give them your full attention than give them half-hearted attention for twice that amount of time and not really have accomplished your best work in the end, despite the sacrifice?
Remember, there is no prescription for the "perfect" work space. For some it will be a coffee shop or co-working space because that social energy is essential. For others it will be a quiet nook decorated in soothing, spa-like colors, a calm respite from the busy world. For me, I need nature. In Seattle the weather is too unpredictable to work outside regularly, so I bring the outside in. My home office overlooks a lush garden where I get to watch the birds at the feeder, and my professional office has a couple of windows letting the daylight pour in and a giant 4' by 6' print of trees in a rainforest.
To reach your highest potential you have to find what inspires your best work. If you're feeling a little stuck, try my guided mediation (http://eepurl.com/bfeceD) — I developed it specifically to help folks look into their own heart to discover what they need from their space. You can also spend some time on houzz.com or on pintrest.com collecting images of rooms that inspire you. One other trick is to think of someone who you greatly admire, someone who's work you aspire to emulate, and imagine the environment in which you might expect them to write. While it might not be anything remotely like the space in which they work, that won't matter, because in the end it is just important to create a space that draws out the amazing professional in you.
Love where you work. Trust me, your clients will thank you for it.