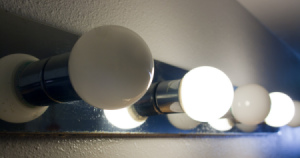 Okay, really, how long have those bulbs over your vanity or dining table been burned out? It's time to take 15 minutes and change the darn bulbs!
This isn't a primer on what kind of bulb to get (fluorescent, incandescent, and LED all have their place) but rather a reminder that living with burned out bulbs is just not something you need in your life. First, it sends a subconscious message that there is something you need to do. Do you really need more things on your to-do list? Second, it makes it harder for you to do what needs to be done. Good lighting reduces eye strain and fatigue and increases safety! Can't argue against that, right?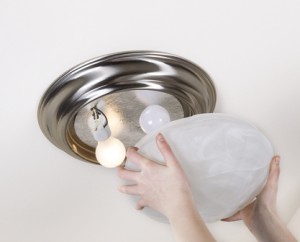 Third, any time you live with broken things in your home it negatively impacts your life. This post was actually inspired by a client who'd spent months swearing at her closet light every morning when she went to flip on the light and it didn't turn on. Always in a hurry she'd plan do it that night, forget, and repeat the cycle each morning.
Working with RWI made her realize how much that darn light was affecting her mornings and her mood, and finally she and her fiancé spent a morning changing all the burned out bulbs in the house. The next day she felt so relieved by the lights turning on and she started her day happier! She called to tell me that the very next week she saw a marked increase in her client inquiries at her company. She asked if the burned out bulbs had blocked the flow  of energy flow in her home.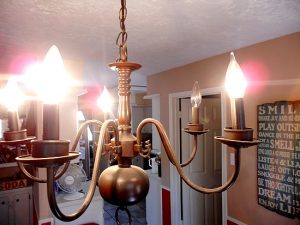 I suggested it might not be quite that woo-woo. When we start out our days frustrated because ofsomething in our house, that emotion leaks into the rest of our day. Our friends, family, and clients can sense our gloomy, grumpy energy. Who wants to be around that? By eliminating frustrating things in our home we change our first-thing-in-the day energy and become more positive… and everyone likes to work with positive people!
So, is it time to change out those burned out bulbs? Get to it! And if you don't have time to run to the hardware store, or have hard-to-find bulbs, try Top Bulb or BulbMan – really fabulous online resources!!
Here's to your happy (and well-lit) home!